We've previously discussed the many possibilities and benefits of personalized printing. One specific feature I'd like to highlight in greater detail is personalized maps. Personalized maps are an additional service we offer that allows your postcards to feature maps customized for every recipient. We can acquire maps with illustrated routing from your recipient's address to your business address, or any other destination you choose. Now your potential customers can see how easy it is to get to your location.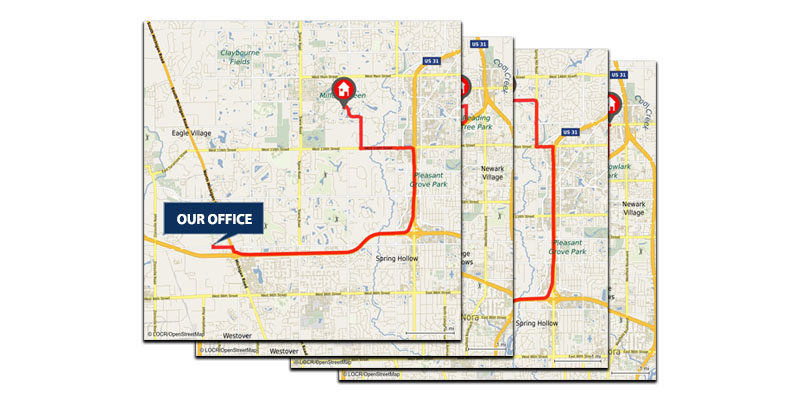 Two Reasons You Should Consider Personalized Maps:
First, they create a sense of legitimacy and connection between the recipient and the sender. Custom maps make the postcard feel like a one-of-a-kind item. If a recipient sees a map with directions starting from their house, it feels less like a bulk mailing that everyone received and more like something intended solely for them. It feels direct and intimate, and more valuable as a result.

Secondly, it increases the overall usefulness of your mailer. The more useful your mailer is, the more likely they are to keep it – which means they'll be seeing your messaging more frequently. A map that shows someone how to get to your business substantially increases the odds… of, well, them going to your business. In fact, according to a recent case study, when the Orthopaedics Center at the University of Chicago utilized personalized maps in their outreach campaign, they saw a 43% increase in appointments.
…they saw a 43% increase in appointments.

While the maps do require an additional licensing fee to acquire, we think for many of our customers it's well worth the investment. Whether it's an urgent care or a new restaurant announcing their grand opening, the best way to have people lining up at your doorstep is to start from theirs.
If you'd like more information on what kind of maps we can acquire, or if you have a project you think would be a good fit, please reach out to us today.