The Next Big Idea in Direct Marketing
Late last year we asked potential customers looking at our products what they wished for.
They said, as much as they liked the idea of our postcard magnets, what they really wished for was more room to express themselves.
You see, we've always had our basic postcard magnets — these are jumbo postcards and custom printed magnets, one glued to the other and mailed via directmail.
But the Venti, our largest postcard magnet at 5-1/2″ x 10-1/2″ just wasn't enough.  Some marketers want more than the Venti's 115 square inches.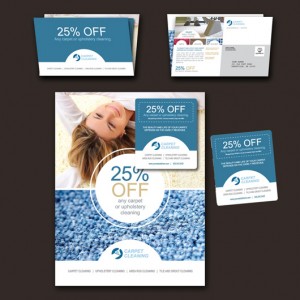 So in January, we introduced our Foldup Magnet Mailer.  This a very big, 8-1/2″ x 11″ postcard, folded in half, a magnet attached to the inside, and sealed shut with easy-peel glue.  Marketers now can have over 200 square inches of printing area.
The fold provides lots of benefits.  The standard postcard format has two sides or 'facings.'  But the Foldup Magnet Mailer has three facings: the front, the back, and the inside.  This gives marketers more space and flexibility to develop their message.
Another benefit of the Foldup is, because the folded piece is thicker than our regular magnet mailer, and the magnet is held securely inside, we don't need to use poly laminate to keep the mailer as rigid for mailing purposes.
Saving poly laminate saves time and reduces costs. (We still provide a UV coating for shine and protection.)
Our customers can receive a Foldup Magnet Mailer for about the same price as our smaller postcard magnet.
A final benefit is that we can enclose custom shaped magnets with the Foldup.  (Our standard postcard magnets could use only rectangle shapes, mostly.)
Foldup Magnet Mailers make sense for any marketer who wants all the benefits of delivering a magnet to a home or office, but who needs lots of space to convey their message.
One thing we should mention for designers: the positioning of the Foldup's magnet is more restrictive than for our regular postcard magnets. The magnet needs to be attached on the 'inside' of the folded postcard, and 'behind' the area where the mailing address is to printed.
But if your design can work with that location, the Foldup Magnet Mailer may be the perfect way to deliver your message. You can deliver it with a 200 square inch format, and provide a custom magnet to help keep your message in full view for weeks or months.
Another innovative marketing device from your friends at magnetbyMail.com, your source for magnet mailers and other ingenious communications tools.