Ask most marketers how they reach the Generation Y audience and they'll tell you it's challenging.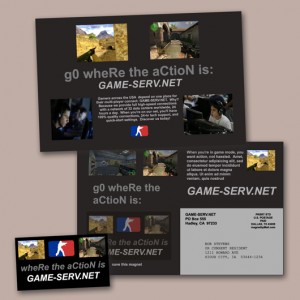 Gen Y, that demographic group born roughly between the mid-1970's and early 2000's, doesn't use lots of the traditional media (newspapers, network tv, magazines).   So for marketers trying to reach the group, the media choices are the social networks like Facebook, Myspace and Twitter.  And unless a marketer can create a buzz that goes viral, he or she is not going to reach an audience at all.
So now it's come this: when marketers think about going 'outside the box', they now mean 'outside the Internet.'   The ultimate web-based marketers are finding new solutions using 'traditional' media,  like  magnet mailers.  Here's how:
The cyber game world is a billion dollar industry featuring multi-player Internet games where the other players – one's teammates and opponents – could be on the other side of the planet.  Games like  Starcraft or Counter Strike Source are run from independent network server companies, offering high-tech computer power that needs to be fast and affordable for their Gen Y customers.
But marketing a game server company isn't easy.  Competition is global and its fierce.  Email marketing has become ineffective and even viral marketing strategies seem to return diminishing results.
We provided the solution in the form of our Basic magnet mailer — it's a large, full-color laminated postcard carrier, and a custom printed magnet attached. With a good mailing list, and a postcard / magnet combo designed to promote a web address, we helped a US-based game server pinpoint its Gen Y target and deliver a message that could stick around.
The end result: a 20% increase in 'guest' traffic at the website and five new accounts for every 100 magnet mailers sent.
Which all goes to show that, even in the tough Gen Y marketplace, if you can get in front of your prospect, you can still win.
magnetbyMail:  helping make sure your message stays in front