Good Marketing Ideas Make Good Practice
It turns out that a well designed marketing plan makes good sense for chiropractors.
Simply hanging the name on the door is no longer a viable option for most chiropractors.   By incorporating the strategies designed to help market other small, local businesses, chiropractic marketing plans help chiropractors maximize revenue for the given community they serve.
Here are five chiropractic marketing ideas that could benefit most any practice: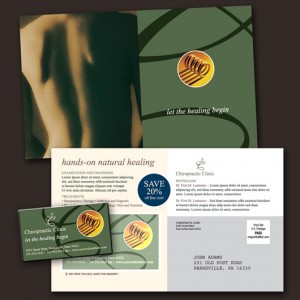 Referrals —  Your patients can be your best ambassadors.   Encourage patients to refer your practice to their friends and family.   When you discover a referral has been made, reward the referrer.   Send them a thank you card, give them a romotional mug or a certificate to a local business, etc.
Community Events —  Participate and display at local events.   Be available to explain what being a chiropractor is all about.
Maintaining Presence —  Advertise all the time, but on a very local basis.   Consider the local paper, shopper papers or mail circulars.  Since you can never predict when someone will look for a chiropractor, design your ads to be easy-to-find and easy-to-identify.    Mail a refrigerator magnet to everyone in your local area using a Saturation Mailing List (more about this below) using one of our Chiropractor Postcard Magnet Mailers.
Website —  A good website is more important than ever.   It needs to be professionally designed.    Not only does the site need to provide key information about your chiropractic practice and chiropractic topics in general, it needs to establish your authority as a chiropractic professional.   Also, make sure your designer understands SEO — a Google Search on "Chiropractor Your-Town Your-State" should deliver your website in the top of search results.
In Focus: the Saturation Mailing list
Sometimes the best strategy is to blanket an entire geographic area with your marketing message.   For example, a chiropractor marketing plan usually needs to focus on a targeted geographic area.   For this task, you'll need a Saturation Mailing list.
A saturation mailing list includes all the deliverable mailing addresses in a given area.   It's an easy way to ensure everyone receives your message.   And it's affordable:  a basic list of 10,000 addresses, for one-time use, can be rented for about $100.
The basic saturation list is bare bones: it is addressed to "Occupant" or "Resident" at each address in the postal database. An option is to include the name of the head of household, if that name is available.
An added benefit of a saturation list is that it is based on USPS data and extremely reliable, so you avoid wasted material and postage by mailing to a bad address.
At magnetbyMail, we handle saturation mailing list campaigns for all areas of the US.  We make it easy: we print the magnet mailers, locate the saturation mailing list for your area, inkjet an address on each mailer, and prepare and deliver the mailing to the post office. All for less than the price of a bagel.
Another marketing tip from magnetbyMail.com, your source for chiropractor postcard magnets.