There's a new business model that's finding its way into almost every community: the walk-in urgent care clinic.
Today there are over 8700 urgent care centers in the US alone, according to the profession's association.
And since urgent care clinics are usually small, local and privately owned, they are much more entrepreneurial than their big hospital counterparts.  Where a non-profit hospital might be able to get along with minimal outreach efforts, an urgent care clinic couldn't survive if the community didn't use its services.
For the doctors who run these centers, effective urgent care marketing can be the difference between withering or prospering.
As anyone who's been involved with a neighborhood business knows, there's a short list of effective ways to build awareness in a community.  But attending Rotary Club functions, co-sponsoring soccer car washes, and managing the chamber of commerce open house will only get you so far.
Sure, there's something to be said for making an investment to assure a prominent spot in Google, under "local urgent care."  But even the all-powerful Google Search would likely not connect with most potential patients when it was time for urgent care.
What the urgent care doctor needs is the clinic's phone number, street address, and maybe a web address, to be posted in kitchens and workplaces throughout the community.
The clinic could really use imprinted magnets in those homes and offices.
And that's where our postcard magnet mailers come in.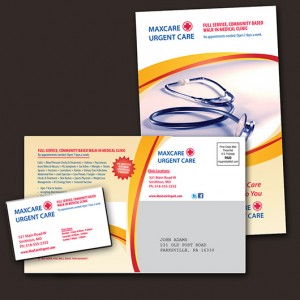 You see, our postcard magnet mailer is a jumbo, full-color, laminated postcard, with a magnet attached. We mail them to a mailing list you provide.
Think of it as a delivery-vehicle with a mini billboard that finds its way into the kitchen or workplace, for the cost of a postage stamp.
And done effectively, the magnet positions the urgent care clinic's message in full view, for weeks, months or longer, for less than the price of an iced tea.
At magnetbyMail we handle the details: printing, laminating, assembling, addressing, bundling and even the postal paperwork.  We can even help with the design and the mailing list.
This leaves more time for the clinic to tend to its patients.
And even though we're a bit biased about our love for these magnet mailers, we think you could might come to agree that it's pretty much the vitamin C of direct mail marketing.
Another practical marketing idea from magnetbyMail.com,  where healthy results are what it's all about.