Ok, maybe you don't run a pizza shop. You still could benefit from a marketing idea that helps deliver pizza sales from coast to coast.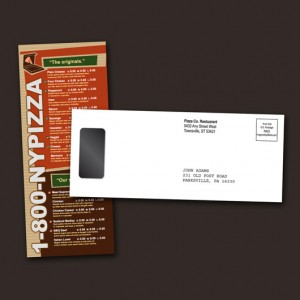 It's our Stuckup Mailer. We can print a takeout menu on one side of the postcard. On the other side we attach a magnet and inkjet a mailing address you supply.
We prepare all the Stuckup mailers for bulk mail, so you get a sizable postage discount, and drop them in the mail for you.
If you need a low cost way to reach an entire neighborhood, we can provide a saturation mailing list, and you could reach your entire community for pennies.
With an enticing offer or artwork, the card makes a quick trip from your recipients' mailboxes to their refrigerator doors.
At 3-1/2″ x 8-1/2″ and UV coated on front, it's just right for a small takeout menu (which is why pizza restaurants love it).
But it's also a great size for advertisers and organizations who need to distribute lists of phone numbers, key contacts or web addresses. Or useful procedures, recipes, emergency preparedness checklists, key tips, calendars, schedules or campaign bios. Or maps, inspiring quotes, artwork or colorful travel vistas.
With a good Stuckup Mailer, you'll discover that the refrigerator door is the most valuable spot in the whole house.   And you'll be making the most of this space.
Best of all, your promotional message could be there for months or more.
Makes you want to order take out, doesn't it?
Another marketing tip from magnetbyMail.com, your source for magnet mailers and other innovative marketing ideas.