Healthcare marketers face one insurmountable reality: that timing is everything.
Deliver the right ad on the wrong day and your potential patient simply hits delete or turns the page.
Thankfully, there's a solution to this problem.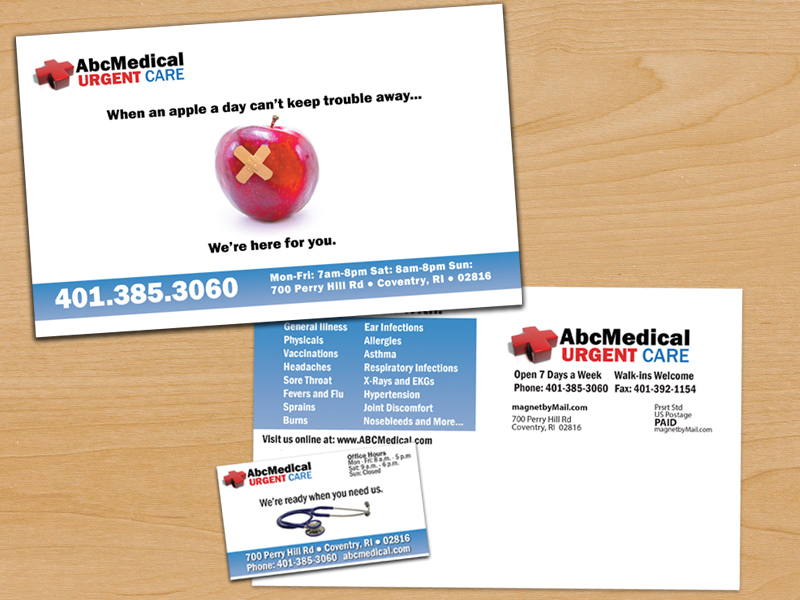 Postcard magnet mailers.
The postcards have all the informative benefits of traditional direct mail, but it's the attached magnets that are the real game changer. Why? Because magnets stick around. And unlike traditional direct mail, magnets have a practical purpose beyond their offer.
When an orthopedic surgeon sends out postcard magnets and someone without any back pain receives one, they'll still have a use for it. They'll use the magnet to pin their grocery list to their fridge or filing cabinet. And a few weeks later, when they throw their back out because they tried carrying too many shopping bags at once, guess who they're probably going to call?
if you're involved with healthcare, you should be involved with postcard magnets.
Doctors and healthcare providers are beginning to realize the power and potential of postcard magnets.  Here are some ways healthcare marketers are using them:
Primary care doctors are announcing the grand-opening of their practices
Dentists are sending out annual updates and cleaning reminders
Sports physicians are promoting pre-season physicals
And while these healthcare professionals' specialties and approaches may vary, they're all experiencing similar results – an increased awareness among their local communities, fuller waiting rooms and big booms in business.
Still need convincing? Here are 3 more reasons why postcard magnets are great for healthcare marketing:

1. Scope
As far as advertising mediums go, you'd  be hard-pressed to find one that's as flexible as postcard magnet mailers. You can send out 250 to one particular neighborhood, or you can send 1,000,000 across the country. The dosage is entirely up to you.

2. Focus
Because postcard magnets utilize mailing lists, you can be incredibly targeted with your approach. Sure, you can blanket an entire area – and sometimes that makes perfect sense. But you can also pay a little extra to hone in on specific segments. For example, if you're a pediatrician, you can target households with children. If you're a plastic surgeon, it might benefit you to reach out to more affluent individuals with higher incomes.
Regardless of who you want to focus on, the important thing is that you're able to. It's this quality over quantity approach that usually pays off big. Other forms of advertising might be able to get you and your message in front of more people for less money, but if those people aren't interested or in need of what you're offering… what's the point?

3. Reach
While digital methods are new and exciting, the fact is most organizations can reach only 40-50% of their potential customers via e-mail. A lot of people still prefer the personal connection and tangibility that comes from receiving physical mail.
Don't get us wrong, we're not saying postcard magnets are the be-all end-all solution to marketing. In fact, they can work best when used in tandem with other media. If you have billboards or online ads, postcard magnets can further cement your place in the minds of potential patients.
The more ways they're exposed to you and your services, the more likely they are to visit. Exposure is everything.
—
But it in the end, it's all about results.
If your healthcare magnet is positioned on somebody's refrigerator, who are they most likely to contact when a need arises?
Six months after your postcards are mailed, new patients will still be walking in your door.
And you can relax, having solved that 'insurmountable' healthcare marketing problem.  You, and a one powerful little magnet.
For more information on postcard magnets for your healthcare organization, please call us at 800-233-6690.  Or visit us at magnetbyMail.com .